60 years
Advertising and booth construction Passion for our customers WUM
Founded in 1963 as an in-house advertising and trade fair service provider for the Linde Group, we look back on an eventful and varied company history. 60 years that have challenged us, but the obstacles andd setbacks have made us stronger. We have had to adapt time and time again to changing conditions in order to achieve continuously healthy growth.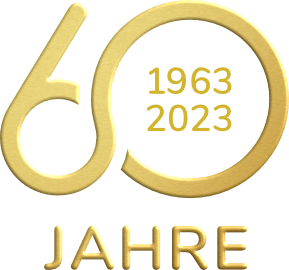 Since1963, we focus on the needs of our customers and not on our own wishes. In doing so, we seem to have succeeded very well in identifying the target group in the larger German SME sector for whom we can provide the greatest benefit and to whom we fit best.
Reliability, creativity and quality – combined with stability and a pinch of progressiveness – are the pillars on which we have built a team of more than 70 employees throughout the WUM group over the last 15 years and which we use for our customers.
This team has grown steadily and is characterised by high identification with our DNA and our customers! We focus on being technologically up-to-date and communicating in the right ways. WUM's quality standards are ensured by working with the right tools and machines.
Our employees and our partners, some of whom we have been working with for decades, are the foundation of our success. Treating them fairly, appreciatively and individually is just as important to us as demanding this appreciation from our customers and partners. This is the only way we can be successful together and develop the best product for our customers.
The focus in the coming years will be on dealing with the aftermath of the pandemic. Moreover, wherever possible and appropriate, we will prioritise sustainability to guide our decisions. Last but not least, we will bring the right people together to deliver very good results for our customers with quality, joy and value!
1963 – Advertising and booth construction for Linde
"Werbung Und Messebau GmbH" is founded as an in-house agency by Linde AG in Aschaffenburg.
2004 – New ways
WUM is spun off at Linde and sold. The advertising division is transferred to the BBDO Group in Frankfurt. With the new WUM-Design GmbH, the team continues the trade fair construction business under the umbrella of HDW-Design from Offenbach.
2007 – The end?
HDW-Design files for bankruptcy.
WUM-Design also has to file for insolvency after the loss of outstanding receivables from HDW-Design cannot be compensated.
2008 – A fresh start
FahnenRichter GmbH & Co. KG with managing director Denis Beutler, a long-time business partner of WUM-Design, takes over the company on the basis of a reorganisation plan and transfers them to the new company WUM Design GmbH & Co. KG.
2010 – Growth of the WUM Group
After many years of successful cooperation, Denis Beutler takes a 50% stake in Typodesign GmbH. The agency is now jointly managed by Martin Weber and Denis Beutler.
By integrating an advertising agency, the WUM Group is once again expanding its range of services for trade fair clients.
2016 – We are four
The newest member of the WUM Group is DS Werbeagentur, for which Denis Beutler becomes managing partner. DS complements the portfolio of the WUM Group in the digital field with a focus on VR, AR, animations, digital product presentations, etc.
2019 – Rebranding
With the change of name to WUM Brand Spaces, we are returning to our roots: the combination of advertising and trade fair construction. Because the holistic view of product and brand has never been more important than today.
At the same time, the WUM Group took over DS Werbeagentur completely. Since then, the agency has been operating under the name WUM Brand House.
2023 – Threefold reason to celebrate
WUM Brand Spaces celebrates a double anniversary: the founding of the company 60 years ago and 15 years under the new leadership of Denis Beutler within the WUM Group.
Moreover, after three years of a pandemic with event bans and restrictions, trade fairs can also finally take place all year round again in 2023.
60 years
– always moving forward
The WUM Brand Spaces team is ready for the future. We are looking forward to further exciting projects for new and old clients. Furthermore, it will be great to see new opportunities rising through innovative technologies and solution approaches in trade fair construction.