Blogpost updated January 2018
Around 96,000 visitors from 35 nations make the Internorga, which is fully booked with over 1,300 exhibitors, the industry's No. 1 event. For 91% of the exhibitors, it is the leading European trade fair for the hotel, catering, mass catering, bakery and confectionery industries. Two years ago, the fair celebrated its 90th anniversary. Internorga has therefore been taking place since 1921. Not many trade fairs can look back on such a long tradition.
Internorga is also referred to as the leading trade fair for the so-called out-of-home market, i.e. when consumers take advantage of commercial catering or accommodation outside their own four walls. The fair gained in importance after the Second World War. In 1950 it still took place in tents.
The name Internorga
The fair got its name when more and more Scandinavian countries took part in it and as a result it gained international importance. From this the name "InternorGa" was born. It stands for "Internordische Messe der Gastronomie". The next Internorga will take place from 9 to 13 March 2018. More detailed information can be found on the Internorga website.
Internorga: More than just a trade fair
Only trade visitors are admitted to Internorga. The Internorga trade congresses are held alongside the Internorga. There is the International Foodservice Forum, the German Congress for Community Catering and finally the Internorga Forum for School Catering. The accompanying congresses once again upgrade the Internorga.
Our customer Wolf ButterBack has been a specialist in high-quality frozen baked goods for almost 20 years. What is special about the Internorga stand is that it is baked live and tasted fresh from the oven! The smell of croissants, pieces of Danish pastry, savoury snacks, muffins and pretzel biscuits is tempting from the ovens … This is not only particularly attractive for visitors, because the baking is already being tried out when the trade fair is set up. And our fitters are thankful "tasters" of the delicious baked goods.
At the Wolf-ButterBack trade fair stand, there will be live baking and oven-fresh tasting. It feels like being in a bakery.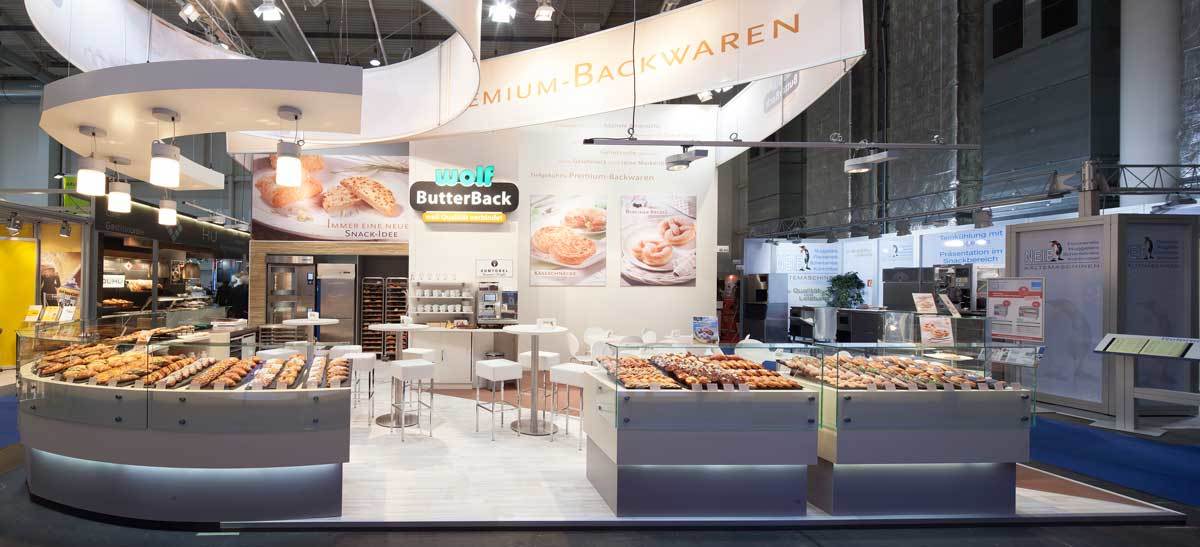 At the Wolf-ButterBack trade fair stand, there will be live baking and oven-fresh tasting. It feels like being in a bakery.
The focus of our customer KALICOM is completely different: cash register and payment systems for efficient branch controlling are the core business of the company. While ButterBack focuses on expenses, KALICOM uses PC workstations to transparently display evaluations, sales figures and sales revenues. The corresponding trade fair appearances are designed and realised by WUM Design in partnership.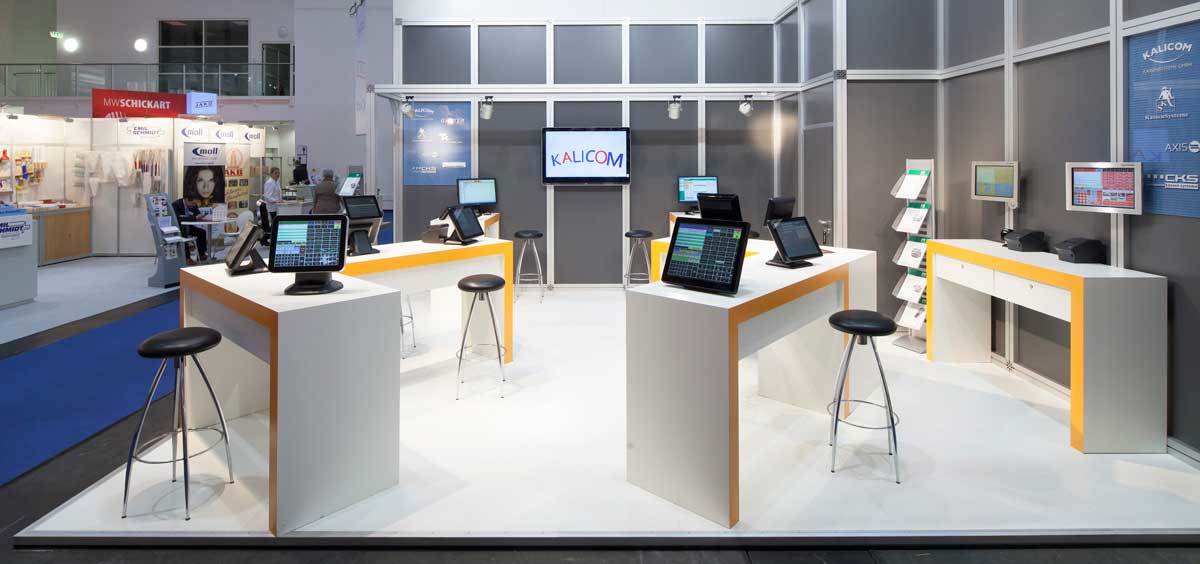 The Kalicom stand is completely different: appropriate to the subject, sober and objective.