100 years of Anuga Fair? Let me take a look at that!
Why go to a trade fair when I can watch everything online? Yes, exactly, that's what I have been telling myself until today. I am 25 years old and I have to admit that I have never been to a trade fair in my life. That changed on 13 October 2019. I can now proudly call myself a visitor to the Anuga trade fair in Cologne. What a day! A short explanation: The Anuga fair is one of the biggest food fairs worldwide (for more information click here). It takes place every two years and had its 100th anniversary in 2019.
So I was in one of the lucky visitors of this special fair event. As a self-proclaimed "Online Shopping Specialist", I really underestimated the concept of a "fair". Due to digitalization and the ever-growing networking, people of my generation are used to having quick access to everything – at any time and any place. "I'm simply going to order this part in three colours, sizes, shapes and what I send back what I don't like". This applies to clothes, electrical appliances, beauty articles and everything else human kind desires.
A parallel universe of shopping: The trade fair
Get out of the comfort zone!
After today I'm asking myself – not for the first time, by the way – why don't we just try on the clothes more often in the store, test them and experience them up close and in person? I think the reason why is a mixture of convenience, time pressure and perhaps a little habit and laziness. So it became time for me to get out of my comfort zone including laptop, smartphone and online shopping. Goodbye for one day to Zalando and Amazon. As I found out today, a trade fair is the perfect opportunity to get out!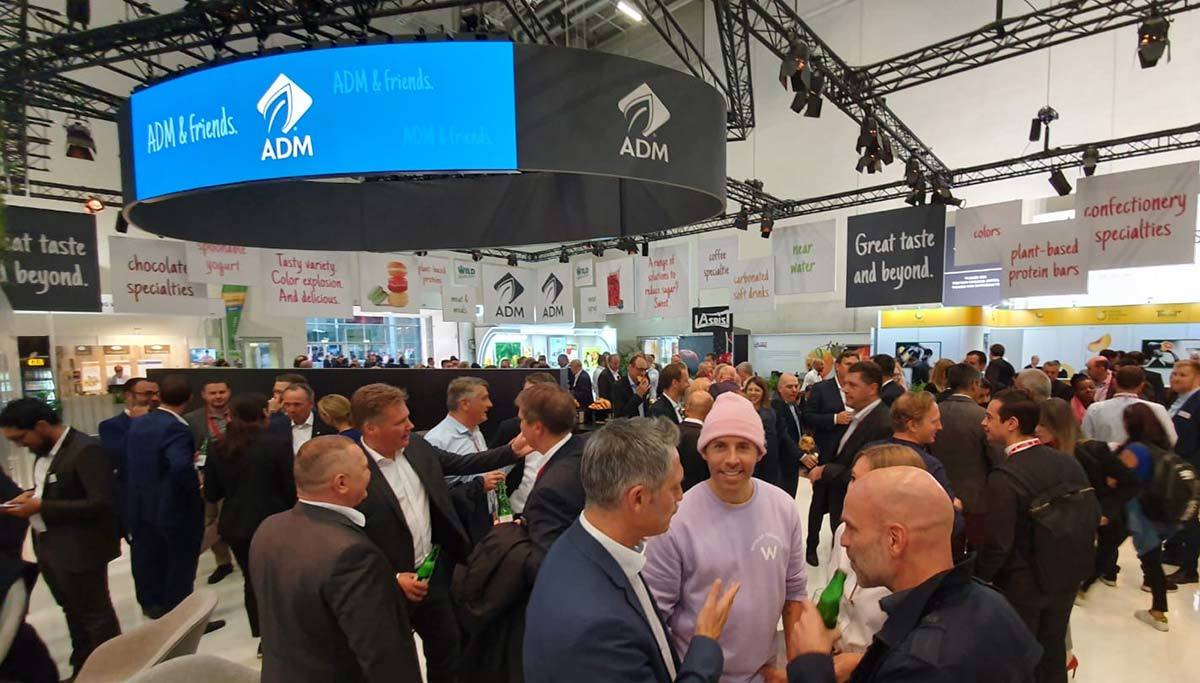 The choice on offers is incredible and at the same time overwhelming. The sellers are more than dedicated. It was like entering a parallel universe of shopping. The oversized halls and rooms give you the feeling of entering another galaxy – a galaxy with no limits on offers. The arousal is caused by the seemingly endless sweet and partly very precisely prepared stands, combined with face-to-face interactions with the sales staff. Additionally there is a breathtaking variety of products.
Old brands, new brands: Something for everyone
You can either visit stands of already well-known brands that launched a new product line or stands of start-ups or brands that are less well-known. The latter category of stands is trying to get on the radar of the visitors. Their concepts are different from those of brands that are already established on the market. These brands are more about introducing a new product chain or looking at new start-ups. But the basic principle is always the same: Listen, try out the product and move on to the next stand. I was totally fascinated by it and I can really recommend to everyone, to try it out!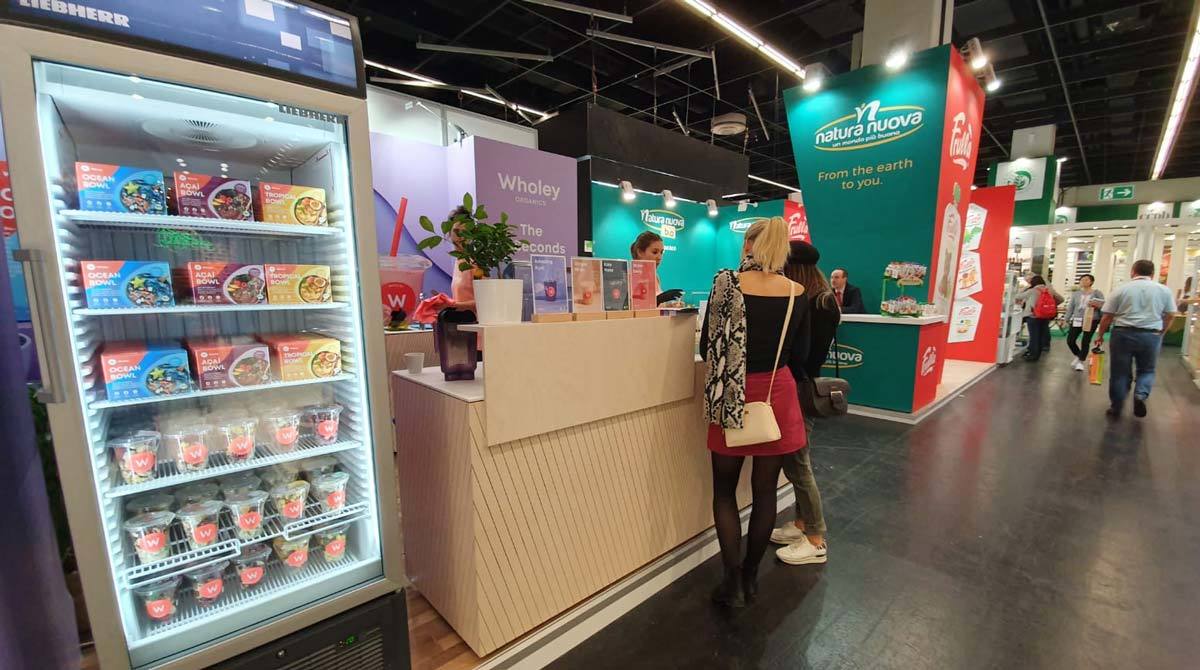 It just feels good to break out of your everyday shopping routine and try so many different products directly on site. I also find the interaction with the different sellers very interesting and took away a lot of information and different views.
The Anuga fair – food to suit every taste
Imagine yourself standing in front of her in the biggest supermarket you know. Put one more floor on top and then take it to 13! Welcome to the Anuga fair! The first 10 minutes I spent to orientate myself, because there were a lot of booths. The range of food on offer was both impressive and overwhelming. I was able to discover and taste so many new things. From locusts on a spit to the latest "Cold Brew Coffee", there was something for every more or less adventurous visitor.
I was particularly fascinated by products such as new muesli bars, smoothies and superfoods. So many charms came over me, smells, colours and salespeople explaining their concepts. After a short period of settling in and after I had managed to get hold of a site plan, my feeling of being overwhelmed evaporated. The enthusiasm of the salesmen and visitors was noticeable and so it was easy to drift with the crowd.
Welcome to the Food-Paradise

I quickly got a feeling for the best way to orientate myself and where the stands which interested me most were located. So I was able to simply enjoy my experience. I talked to the sellers, tried new things and sometimes just listened or watched the other people.  I felt as happy as a little kid, as soon as I discovered a brand I knew, such as Wholey (smoothies and bowls, see picture down below) or Haferkater (porridge and coffee). I also got to know many new brands, such as Cully and Sully (Soups).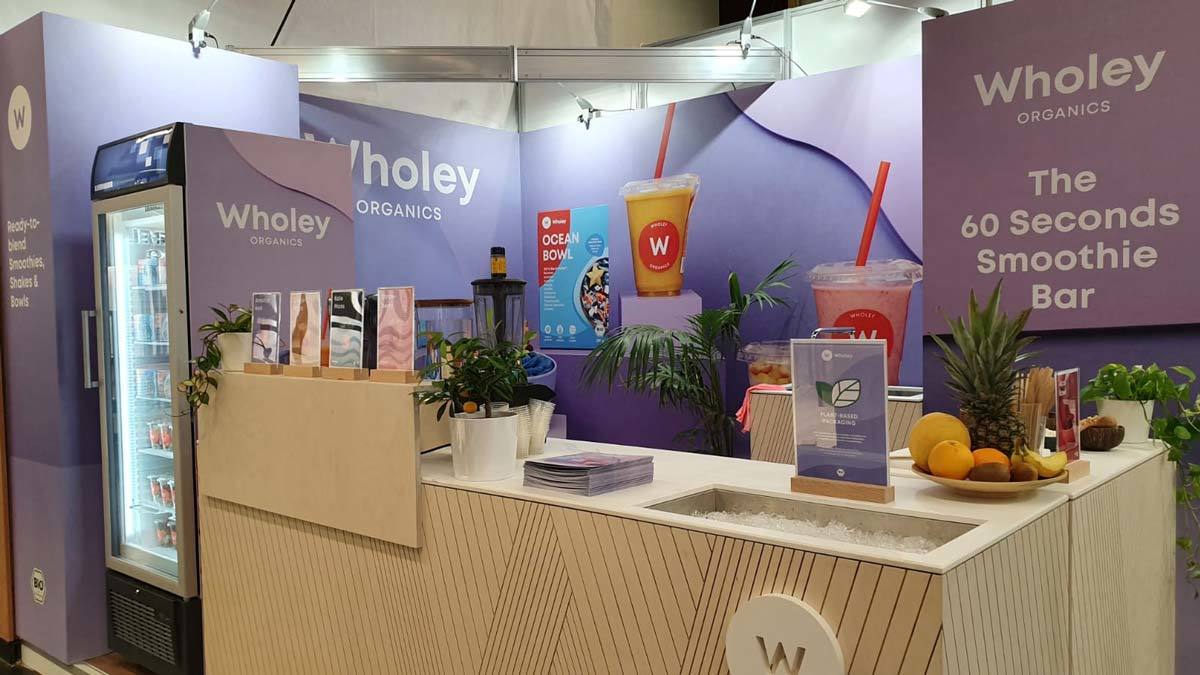 The highlight came at the end: It was the last day of the fair and so the brands started to give away all their products. Without asking for it, I got smoothies, ham, bars and much more. I took three full bags of food and drinks home with me! It was like early Christmas in October!
I could certainly have been walking around for days trying out all the superfoods, gingershots and protein bars, but unfortunately my trade fair experience was limited to a few hours. Luckily, I was able to take some souvenirs home with me and I still think about that day, when I try one of the bars, I got.
… Tipps for the future!
I gave myself the advice to bring more time for the next adventure! That way, I can absorb and enjoy the impressions even more intensively. A note to myself is, that it was a great start, that made me take a first trip to the shopping parallel universe, for one day. After my short trip, I read up and discovered that there are trade fairs on all kinds of topics (see for example link). I can't wait to close the apps and websites and start my next fair adventure!