According to a representative AUMA survey, trade fairs are the second most important instrument in the marketing mix after one's own website. In 2017, 83 percent of exhibiting companies rated trade fair participation in B2B communication as important or even as very important. This once again underlines the importance of trade fairs.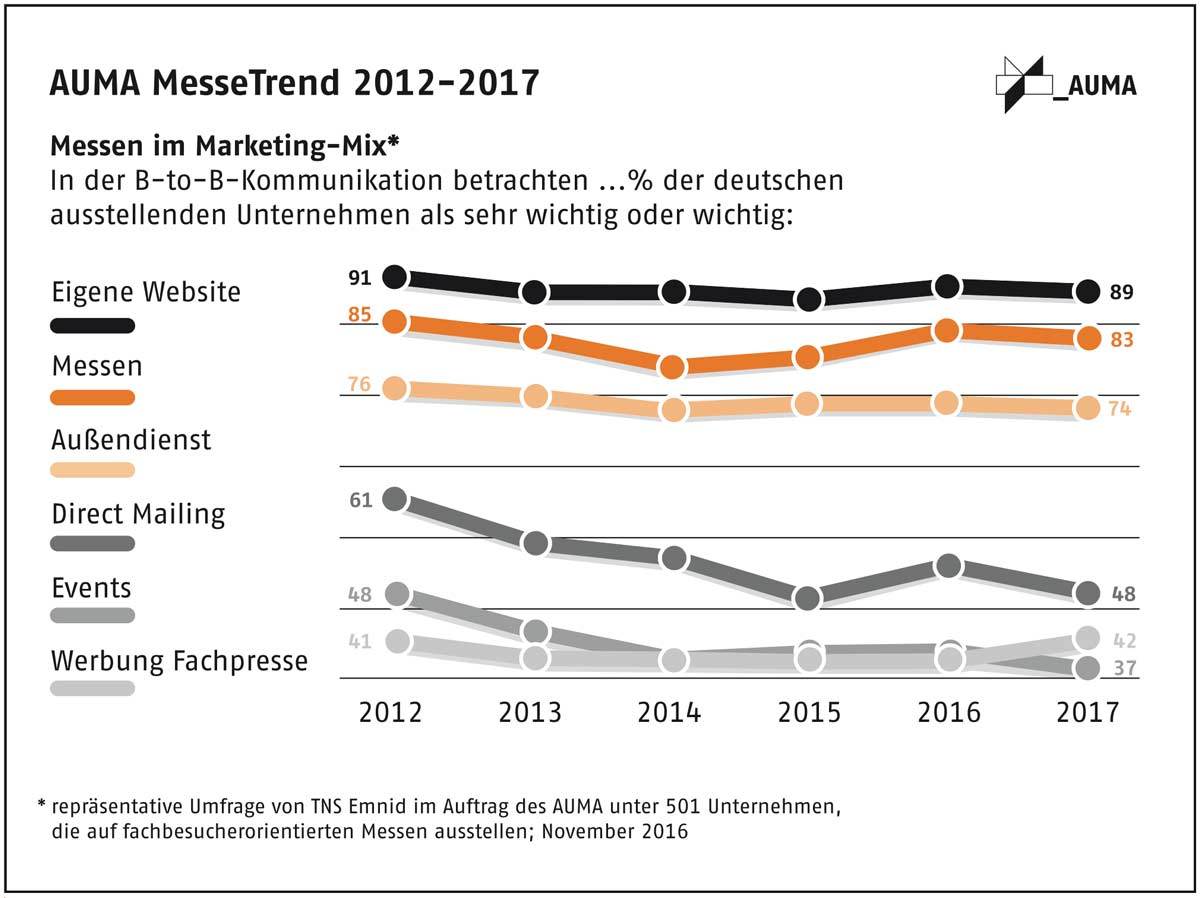 Source: AUMA
Therefore, it must be in the interest of the company to implement the trade fair appearance as successfully as possible. It is a matter of getting the best out-come of the usually cost-intensive trade fair participation in order to convince new and regular customers. This starts with the stand design and ends with the contents on the stand itself. Ideally, both aspects complement each other to create a harmonic appearance.
More than just stand construction
To ensure that this is as successful as possible, we often consult our customers on the contents as well. So we don't just build the exhibition stand, but thanks to the WUM Gruppe, we are also in a perfect position to provide good content for the exhibition stand.
An example of this is our customer A.S.K. (Allgemeiner Sanitär- und Küchenvertrieb GmbH) for whom we not only built the stand at Area 30, but also produced a film. The aim was to showcase three special features of a kitchen armature.
Even 30 years ago, simple displays with text and graphics were no thriller at trade fairs. That was something we clearly advised against. The contents have to come alive. This is best achieved with moving images and video displays, which are indispensable on a modern trade fair stand nowadays.
On the basis of text information and graphics, we developed a small storyboard and together with the customer we looked for a suitable location. After a whole day of shooting we had enough footage together to create the following 2-minute film:
Of course such a film is connected with a certain effort. But in contrast to a classic trade fair display, the film offers the great added value that it can also be used after the trade fair on the website or by the sales representatives at marketing measures.
Do you have any questions about the content on your stand? Do you need a strategy or a concept? Talk to us. We at WUM Design with the competence of the WUM Gruppe will be happy to advise you.
Beitragsbild: © artisticco– istock.com