Christmas is considered a time of charity and contemplation. It is spent with people who are close to your heart. With a distance of more than 10,000 kilometres between Germany and Tanzania this is a bit difficult, but nevertheless we want to give something very special to our godchildren Goodluck and Godlisten this year.
Do you remember? The entire WUM Gruppe (WUM Design, DS Werbeagentur, Typodesign and Fahnenrichter) typed during the Football World Cup this summer. The prize of our betting game was donated to the twins in Tanzania. The association "Partnerschaft für Afrika e.V." is committed to helping disadvantaged children. Through a lot of commitment and help from volunteers and donations from Germany, they can give children a better life there. With the donations of the WUM Group we support the individual talents of the boys: exciting internships during the winter holidays!
The computer expert Goodluck
During their Christmas holidays, the two of them do a voluntary internship. Goodluck gets a taste of the world of IT. Long-standing contacts between the Yakini School in Kisongo and an IT company in the town enable him to do an internship in which he learns more about his favourite topic Computers. From hardware and software reparations to Internet services and security cameras – Goodluck learns everything from the real professionals. The inquisitive boy gains insights he would never have gained in the normal school routine.
Godlisten
as an artist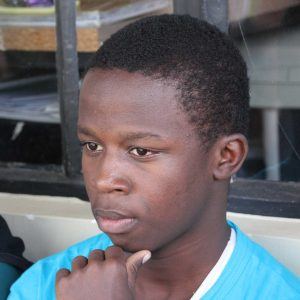 Godlisten has also got an indescribably great chance through our donations: He is allowed to work together with the owner in a real artist's studio and thus further develop his artistic talents. The artist Gerald Soka was very touched by Godlisten's passion for art and his background story. Therefore he agreed to support the boy in further developing his artistic abilities at his side. Friederike Heidenhof's aid organization supports him in everything he needs, such as pencils in various hardnesses, acrylic paints and a sketchbook.
Christmas in Tanzania
And how do the twins spend Christmas? How does Tanzania celebrate Christmas? Similar to Germany, people there spend Christmas days with their families and many of them go to church. To celebrate the day, some can afford an expensive piece of meat. A kind of Christmas tree is also common, but rarely a fir tree. Contrary to the cold temperatures here it is midsummer in Tanzania. Goodluck and Godlisten were educated catholic and go frequently to the Sankt Joseph church. Especially of course they visit the Christmas mass on Christmas Eve. Afterwards there will be festivities in the Living Water Children Center to which the twins and other disadvantaged children of the area are invited.
WUM Design
wishes "Merry Christmas!
Us from WUM Design and the WUM Group are very grateful for the long-standing cooperation with the association "Partnerschaft für Afrika e.V.". To see that one can give something very special to children through such a successful cooperation is a really nice feeling – our Christmas present!
In this spirit we wish you and your family a wonderful Christmas time and a good start into the new year! How the twins liked their internships and the latest developments, we will be happy to share with you again next year!